This page has been visited times
since April 21, 2005.
Last update: .

Copyright©2006 Nanotube2006
All rights reserved.



Supported by
Ministry of Education, Culture, Sports, Science and Technology, Nanotechnology Researchers Network Center of Japan

Japan Society for the Promotion of Science(JSPS)

Commemorative Organization for the Japan World Exposition '70

Shinshu University

Shinshu University INSTITUTE OF CARBON SCIENCE & TECHNOLOGY

The Carbon Society of Japan

Research Organization for Information Science & Technology (RIST)

Shinshu-Nagano Prefecture

Nagano Convention & Visitors Bureau

Technological Foundation of Nagano Prefecture

Foundation Advanced Technology Institute (ATI)

Mitsubishi Corporation

co-sponsors
Mitsubishi Corporation

SHINKO Electric Industries Co.,LTD.

Showa Denko K. K

Bussan Nanotech Research Institute Inc.(Mitsui & Co.,LTD.)

Honda R & D Co.,LTD. Wako Research Center

Sony Corporation

Tsukada Riken Industry Co.,LTD.

NISSEI Plastic Industrial Co.,LTD.

Seiko Instruments Inc.

ORION Machinery Co.,LTD.

KOA Corporation

TERUMO Corporation

JFE Engineering Corporation

TYK Corporation

MITSUBISHI Pencil Co.,LTD.

NICHICON Corporation

OSAKA Gas Co.,LTD.

SEC Corporation

KITAGAWA Industries Co.,LTD.

NIPPON Carbon Co.,LTD.

Okazaki Minerals & Refining Co.,LTD.

TOYO TANSO Co.,LTD.

Nissin Kogyo Co.,LTD.

CERATECH JAPAN Co.,LTD.

TRIS Inc.

GSI EXIM America, Inc.

Toray Industries, Inc.

MEFS Co.,LTD.

Bando Chemical Industries, LTD.

TOKAI CARBON CO., LTD.
NT06: Seventh International Conference
on the Science and Application of Nanotubes
Hotel Metropolitan Nagano

(Nagano, Japan)

June 18 - 23, 2006
Japanese Site: http://endomoribu.shinshu-u.ac.jp/nt06/
MSU Mirror Site: http://nanotube.msu.edu/nt06/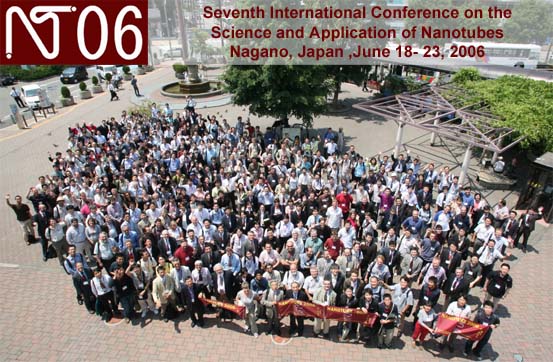 With 627 participating scientists from 33 countries, NT06 is the largest nanotube conference ever (
click on photo
for full-size image).

Photo gallery
Click on photo for full-size image
Tutorial (June 18, 2006)
CCTN06 - NT'06 one-day Satellite Workshop (June 18, 2006)
Opening Ceremony (June 19, 2006)
Conference (June 19-23, 2006)
Exhibitors (June 19-23, 2006)
Oasazi (June 20-22, 2006)
Excursion (June 21, 2006)
Conference Banquet (June 21, 2006)
Closing Ceremony (June 23, 2006)